San Francisco Wrongful Death Lawyers
Compassionate Representation for Bereaved Families
Losing a loved one because of another's wrongful actions is perhaps one of the most traumatic experiences any family can endure. Our legal team would like to extend our sincere condolences.
Since 1980, Rouda Feder Tietjen & McGuinn has stood as a beacon of hope for injured individuals and bereaved families in the Bay Area. Our San Francisco wrongful death attorneys are skilled, knowledgeable, and prepared to fight for your future at this crucial time. Whether your loved one was lost due to a car accident, bicycle accident, or another type of accident, we are here to help you seek justice and fair compensation.
Millions Recovered in Wrongful Death Cases
Rouda Feder Tietjen & McGuinn has won millions of dollars in compensation for families pursuing wrongful death claims. While it is impossible to guarantee the outcome of a case, we have proven time and again that we have the skills necessary to help our clients navigate the claims process and give them a strong fighting chance.
Some of our most notable case results in wrongful death cases include: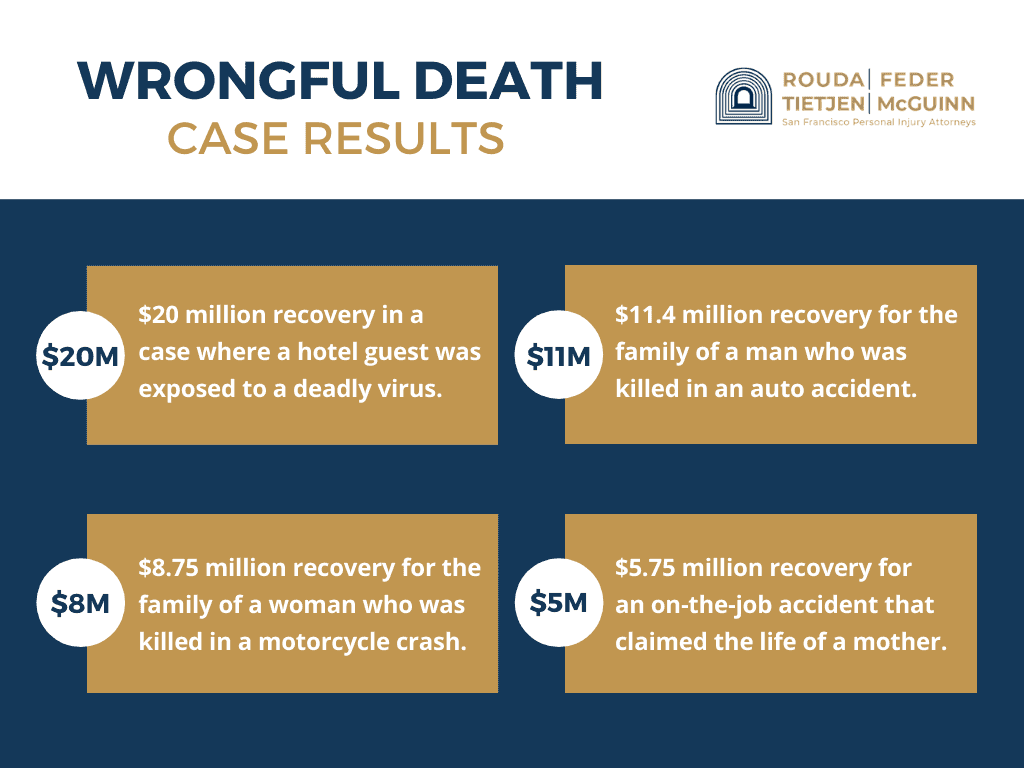 Contact our San Francisco wrongful death lawyers at (415) 940-7176 or online to learn more about your legal options. Consultations are offered free of charge.
Defining a "Wrongful Death" in California
"Wrongful death" refers to a fatality caused by another person's negligence, carelessness, or recklessness. These claims are not specifically reserved for deaths caused by a specific category of accidents, such as only for deaths occurring under the care of a medical professional. Rather, the qualifying criterion is whether or not another person, corporation, or entity was responsible.
Some of the most common causes of wrongful death involve:
During your free consultation, our team can help you determine if you qualify for a wrongful death claim and what your next steps will be.
Who Can File a Wrongful Death Claim in San Francisco?
In San Francisco and the rest of California, certain surviving family members may be eligible to file a wrongful death claim on their loved one's behalf. These eligible individuals include:
A spouse
Domestic partner
Child of the deceased
A personal representative of the deceased's estate
To learn if you qualify for a claim, it is best to speak with an experienced San Francisco wrongful death attorney.
Should I Hire a Wrongful Death Lawyer?
There is, of course, no way to place a dollar amount on the loss of a loved one. No amount of money could in any way make your pain go away or make what happened to you and your loved ones right.
If you pursue justice through legal action, however, you may be able to obtain some much-deserved peace of mind by knowing that the party responsible has been called to answer for their actions. In addition, you may be able to reduce some of the financial burden this situation has placed on your and your family's shoulders.
A few of the financial damages that you could be compensated for include:
Loss of consortium
Loss of companionship
Loss of income/wages
Reimbursement for medical bills
Reimbursement for funeral/burial expenses
Pain and suffering experienced by the deceased prior to death
Let Rouda Feder Tietjen & McGuinn Fight for You
Our firm does not charge an upfront hourly fee, and we often front litigation costs as necessary, allowing regular consumers to protect their rights without worrying about further financial strain. There is no reason not to take legal action to protect your rights and your family's well-being after your loss.
Our San Francisco wrongful death attorneys at Rouda Feder Tietjen & McGuinn are acclaimed by Best Lawyers® and Super Lawyers®, among others. Our firm has also been recognized by U.S. News — Best Lawyers® "Best Law Firms," an annual publication showcasing the nation's premier legal practices. Most importantly, we are respected by our peers and clients for our commitment to serving the San Francisco community via our legal services.
The difference between us and competitors is that we truly care about you and your family.
Call Rouda Feder Tietjen & McGuinn at (415) 940-7176 for a free case evaluation with a San Francisco wrongful death attorney. You can also fill out our online contact form.
Real People. Real Stories.
See What Our Clients Have to Say
- Michelle

- Guadalupe Hernandez

- Jackie Q.

- Michael J Ney, McNamara, Ney, Beatty, Slattery, Borges & Brothers LLP

- Heidi Taylor, Law Offices of Heidi Taylor